There's something incredibly refreshing about taking a break from the concrete jungle and stepping foot and going on hikes. The soft whisper of the wind in the trees, the earthy aroma of damp soil, and the brilliant hues of flora and fauna make the experience truly magical.
It's no wonder then that hiking, an activity that lets you soak in all this nature's bounty, has gained immense popularity in recent years.
Interestingly, one doesn't have to travel far from the bustling streets of the city to find a good hiking trail. Especially for those of us in Oklahoma City, an exciting array of hiking trails, each promising an adventurous day out, is just a stone's throw away.
This article serves as your guide to some of the most beautiful and enjoyable hikes near Oklahoma City that you can embark on ASAP. So tighten your hiking boots and get ready to hit the trail!
Red Rock Canyon Adventure Park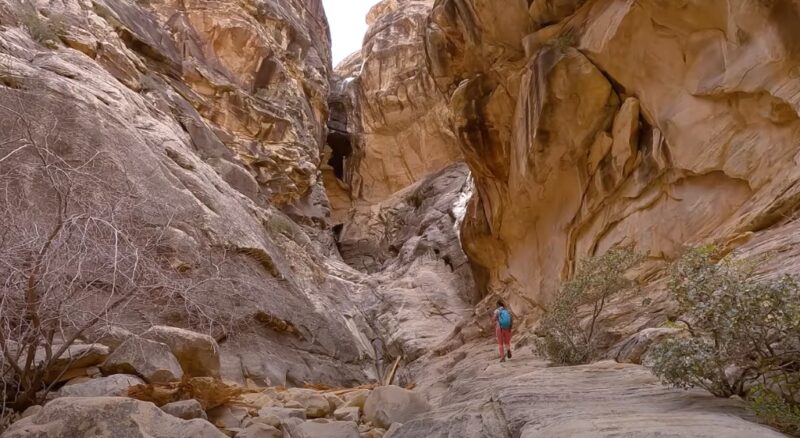 Stepping into Red Rock Canyon Adventure Park is like entering another realm altogether. Towering cliffs of warm red sandstone flank a beautiful green oasis, creating a breathtaking contrast that captivates every visitor.
The park's unique red rock formations, the product of years of natural weathering, are its undeniable star attraction. The sight of the setting sun bathing these cliffs in a golden glow is something that sticks with you long after you've left the park.
When it comes to hiking, the park has something for everyone. Whether you're a seasoned hiker seeking a challenge or a beginner looking to explore at a leisurely pace, you'll find a trail that's just right for you.
The trails wind through rugged terrain, opening up to sweeping vistas of the canyon and making for some amazing photo opportunities. Just remember to pack your camera!
Wichita Mountains Wildlife Refuge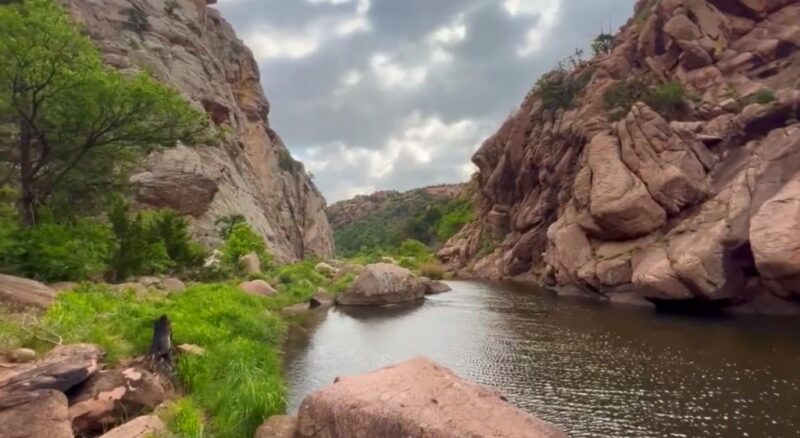 Seated in the heart of the Great Plains, the Wichita Mountains Wildlife Refuge is a slice of paradise for nature lovers and outdoor enthusiasts. The refuge is home to herds of American bison, longhorn cattle, and elk that freely roam the vast grasslands.
Hiking here feels like stepping back in time, offering a glimpse of the American West as it was hundreds of years ago.
With more than 30 miles of hiking trails winding through rugged hills, open grasslands, and tranquil bodies of water, the refuge offers plenty of opportunities for exploration. The trails vary in difficulty, and each provides a unique perspective of the refuge's diverse landscape and wildlife. If you're lucky, you might even spot a roaming bison or two!
Learning how to savor rainy hikes resonates with the pursuit of embarking on beautiful and fun hikes near Oklahoma City, as detailed in the linked article featuring top picks for 2023.
Turkey Mountain Urban Wilderness Area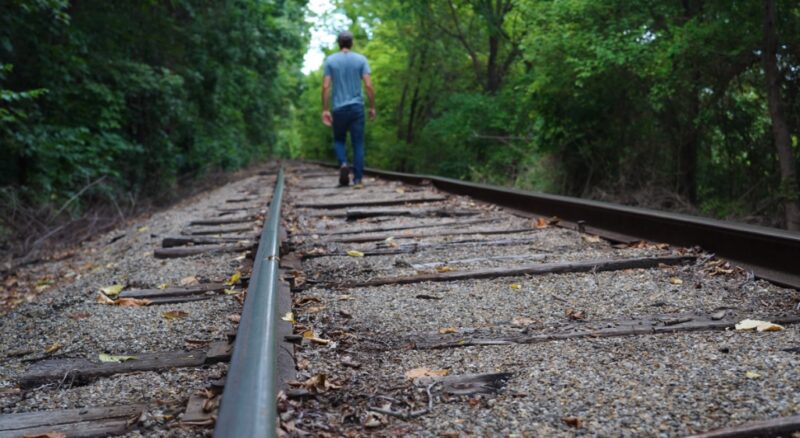 In the midst of urban Tulsa, the Turkey Mountain Urban Wilderness Area stands as a beacon of tranquility. Its densely wooded slopes and winding trails transport you away from the city noise and into a peaceful world of chirping birds and rustling leaves.
This urban escape boasts miles of trails suitable for both hiking and mountain biking, making it a go-to spot for outdoor enthusiasts in the city.
The well-marked trails at Turkey Mountain cater to all levels of hikers, from the challenging "Pink Trail" that offers panoramic city views to the easier "Yellow Trail" meandering alongside the Arkansas River. With every season, the landscape changes, offering hikers a new, stunning spectacle each time they visit.
Turner Falls Park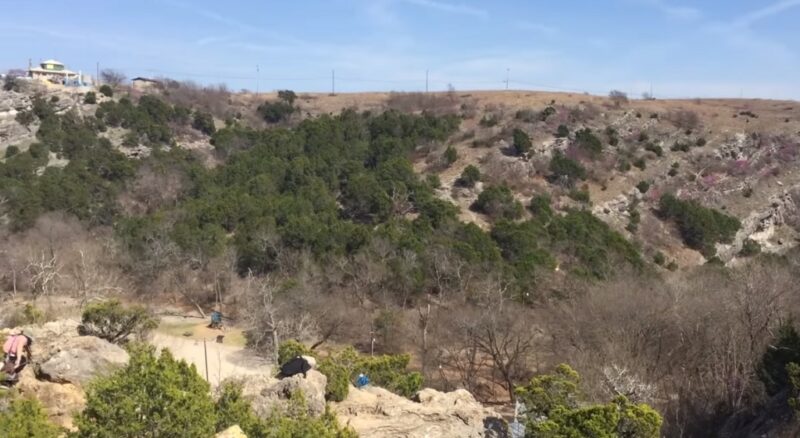 Nestled in the heart of the Arbuckle Mountains, Turner Falls Park is home to Oklahoma's largest waterfall. The 77-foot fall is a sight to behold, its cascading waters plunging into a natural swimming pool below. A network of hiking trails crisscrosses the park, leading adventurers through verdant forests, over wooden footbridges, and past intriguing caves.
The hiking experience at Turner Falls is unlike any other. Each trail unfolds a unique chapter of the park's vibrant landscape, revealing hidden gems along the way. Don't miss the chance to explore the park's three natural caves or to take a refreshing dip in the clear, cool waters of the swimming hole.
Lake Thunderbird State Park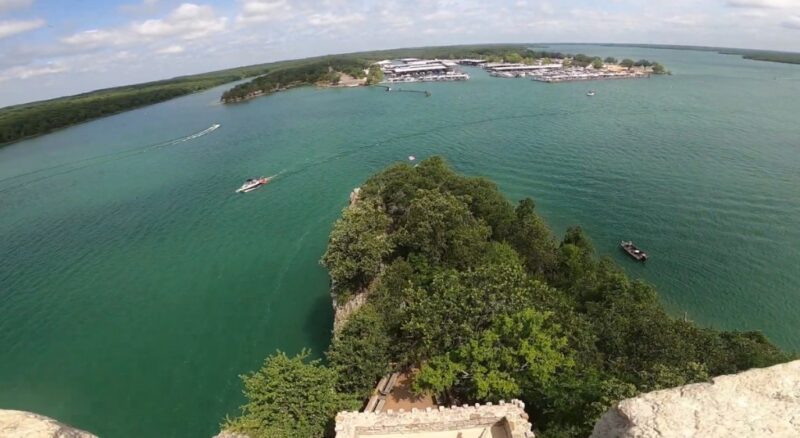 The gentle lapping of waves against the shore, the rustle of leaves underfoot, the echo of birdsong through the trees – this is the symphony of sounds that greets you at Lake Thunderbird State Park. It's an ideal getaway for anyone seeking a blend of water sports and hiking adventures.
The park boasts two marinas and multiple boat ramps, making it a haven for boating, fishing, and swimming.
For those keen on exploring by foot, the park offers over 22 miles of hiking trails that loop around the lake and through the rolling woodlands. You might even encounter wildlife like white-tailed deer and wild turkeys along your hike. And, if you're bringing along your four-legged friend, the good news is that leashed dogs are welcome on the trails!
Tallgrass Prairie Preserve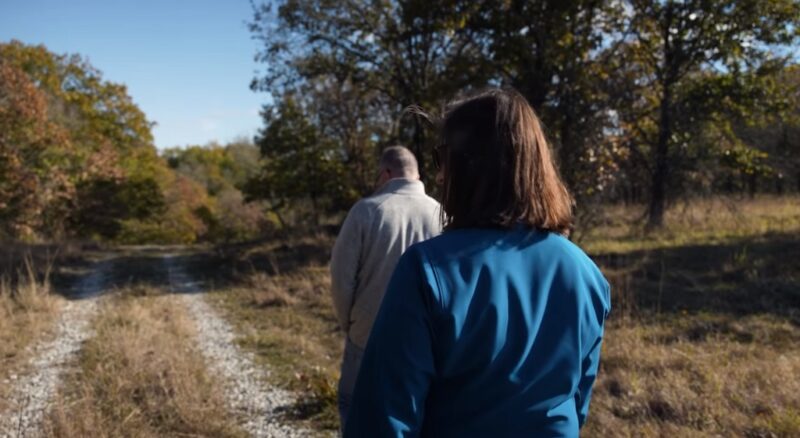 The Tallgrass Prairie Preserve transports you to a time when the American Midwest was an endless sea of waving grasses. This 40,000-acre preserve is the largest protected remnant of tallgrass prairie left on earth.
As you hike through this landscape, you'll witness a delicate yet thriving ecosystem, one that supports a wide variety of plant and animal life, including a historic bison herd.
Hiking in the preserve is an immersive experience. The wide-open spaces and seemingly endless horizon give you a sense of freedom and tranquillity that's hard to find elsewhere. The trails are mostly flat and easy to traverse, making this an ideal spot for leisurely walks, photography, bird watching, and wildlife spotting.
Ouachita National Recreation Trail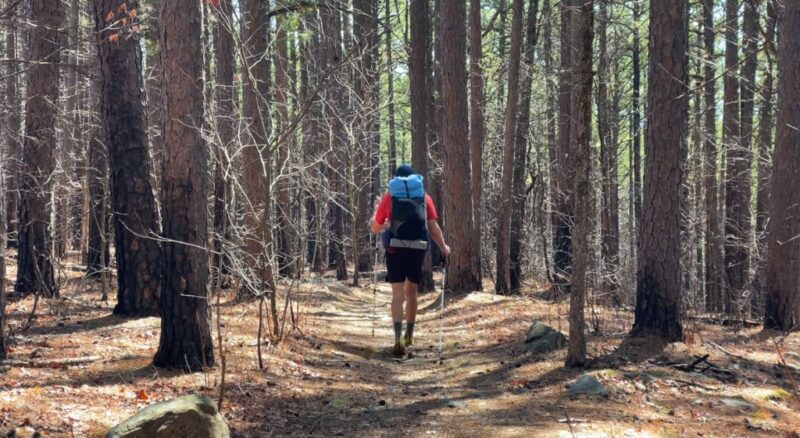 Spanning across Arkansas and eastern Oklahoma, the Ouachita National Recreation Trail is an adventurer's dream come true. It's one of the South's longest trails, stretching over 223 miles of picturesque landscapes. The trail traverses the stunning Ouachita Mountains, offering hikers panoramic vistas of tree-covered peaks and sparking rivers below.
A hike on the Ouachita trail promises a sense of solitude and a deep connection with nature. With each mile, the trail takes you deeper into the wilderness, revealing the raw beauty of the Ouachita Mountains. The trail can be challenging in parts, with steep climbs and rough terrains, but the incredible views and diverse wildlife make every step worth the effort.
Beavers Bend State Park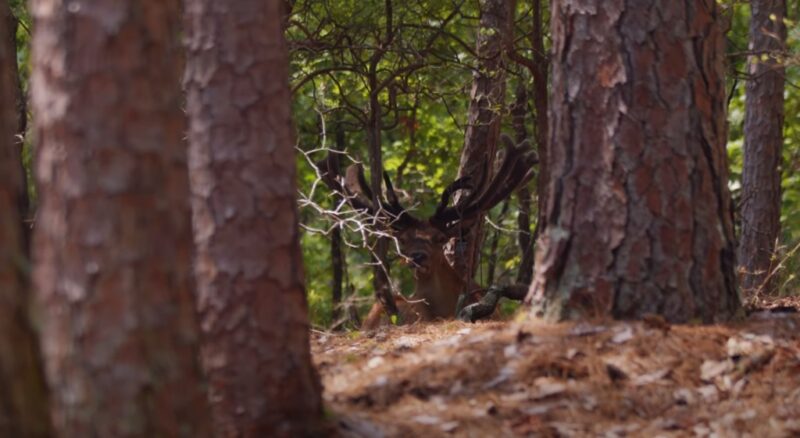 Located in the foothills of the Kiamichi Mountains, Beavers Bend State Park is a gem of southeastern Oklahoma. The park, with its lush forests, sparkling lakes, and rushing rivers, offers a plethora of outdoor activities like fishing, canoeing, and horseback riding. However, the real charm of Beavers Bend lies in its extensive network of hiking trails.
These trails run through some of the park's most stunning landscapes, from the serene banks of the Mountain Fork River to the towering timbers of the Choctaw Nation Forest. Whether you choose an easy stroll along the waterfront or a strenuous hike up the mountain, Beavers Bend guarantees an adventure that you'll remember for a lifetime.
FAQ
What should I bring on a hike near Oklahoma City?
Essentials for hikes include a good pair of hiking shoes, water, snacks, a map of the trail, a first-aid kit, a hat, sunscreen, and bug repellent. Always remember to dress according to the weather and in layers.
Are these hikes suitable for families with kids?
Absolutely! Many of the trails near Oklahoma City are family-friendly. Red Rock Canyon Adventure Park, for instance, offers beginner-friendly paths perfect for little feet.
How do I prepare for hikes if I'm a beginner?
Start with short, easy hikes and gradually increase your distance and difficulty as your fitness improves. It's also advisable to study the trail map, check the weather, wear appropriate clothing and footwear, and bring necessary supplies.
Can I bring my dog on these hikes?
Policies regarding pets vary from one park to another. Some parks, like Lake Thunderbird State Park, welcome leashed dogs on the trail. It's always best to check the park's regulations beforehand to ensure your furry friend can join your adventure.
Conclusion
In the heart of the urban sprawl of Oklahoma City lie gateways to natural wonderlands that are as beautiful as they are enjoyable to explore.
From the unique red rock formations of Red Rock Canyon Adventure Park to the untouched wilderness of the Ouachita National Recreation Trail, these hikes near Oklahoma City offer an unforgettable mix of challenge, excitement, and serenity.
What's more, they underscore the delightful fact that nature's grandeur is never far from our reach, even amidst the hustle and bustle of city life. These trails promise not just a physical workout, but also a much-needed mental detox, a chance to reconnect with nature, and a renewed appreciation for the world around us.
Exploring the stunning hikes near Phoenix resonates with embarking on beautiful and fun hikes near Oklahoma City, as discussed in the linked article highlighting top picks for 2023.
So go ahead, tie up your laces, pack your bag, and step onto the trail. Remember, every hike is an adventure waiting to unfold, a story waiting to be told.
And as we enjoy these beautiful spaces, let's commit to being responsible hikers, protecting and preserving the environment so that future generations can also discover the joy and beauty of the great outdoors. Get ready, your hiking adventure awaits!